Why the 1uzfe?
-It's cheap. A lower mileage motor can be had from a junkyard for $500 or less. The complete swap won't cost you more than $3,200. (without Y pipe)
-It's reliable. Look up early 90's LS400s forsale and you'll notice a ton with over 225k miles. I've seen upwards of 310K.
-It's light. Weighs in at around 400lbs (minus trans). That's only 30lbs heavier than a KA24DE without the transmission, 100lbs lighter than a VH45. With KA/SR transmission it weighs within 10lbs of a sr20det swap (with transmission).
-It fits. Tightly on the passenger side and the header must be modded to clear the steering column, but you don't have to cut your hood like a VH45.
-Pretty good powerlevel. 250HP/260TQ.
I could not in good conscience swap in a sr20det for a street car with occasion track duty for the amount of money it would cost to achieve the same power level and reliability of the 1uz. I will say that if I was trying to be competitive in AutoX or something similar the sr20 would be the better swap. The 1uz puts you in the same class as light cars with LSx motors.
How to Wire the 1991 LS400 1UZFE to a 1995 240sx
Purchase a couple fuse blocks.
1x
http://www.summitracing.com/parts/bss-s8202-4/overview/
Optional
Get a handful of relays. I got some from ebay.
http://www.ebay.com/itm/10-PACK-12V-12- ... 462260365a
Make sure you have a spare engine harness to cannibalize. You'll need the dash plug and harness for wipers. It's helpful to have the transmission (lower) harness as well. I did not so I bought individual plugs/pigtails from
www.wiringspecialties.com
This website has the pinouts for every plug on the s14.
http://forums.240sxone.com/showthread.php?t=7091
Use your FSM (you can find it online) to verify what the plugs are.Use this website to find your wiring diagram for the 1uz: https://drive.google.com/folderview?id= ... mc4Q0VxOUk

Like I said, 1991 LS400 1uzfe. The same as 1990-1992 if I remember correctly. After 1992 they switched to a different ECU pinout. But if you follow my directions and get the correct wiring diagram for the 1uz, you'll have no problem with wiring it up.
The plugs are numbered according to the wiring diagram, so that's why it jumps around. I was missing #2 plug, so I had to make my own pin for Battery power. IL1 is one of the 1uz's dash plugs. You'll splice about everything into this.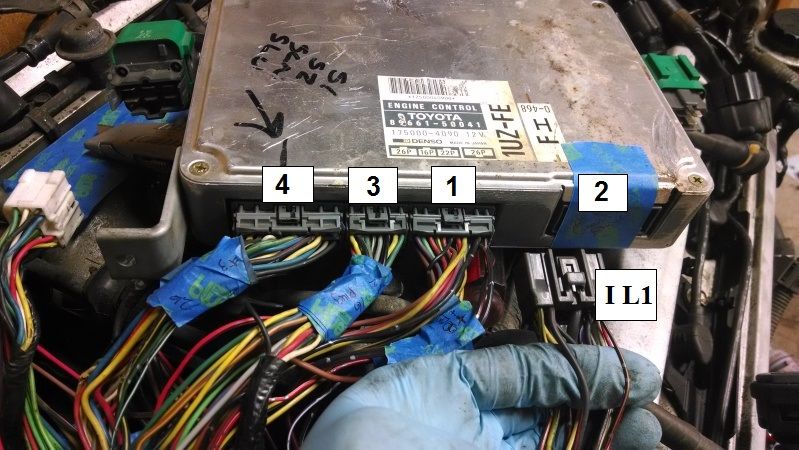 WiringEcu battery power.
M63/F3 (240sx Dash harness) Pin 9 (Red wire) to a fuse block. 20A fuse. From the fuse block connect it to pin 26 on 1uz Plug 2 (my missing plug).
B+ power. (Stuff to make it run)
M63/F3 Pin 39. Grey/Orange wire to fuse block. 20A Fuse. From fuse block to IL1 pin 5. White Wire.
IGNSW. (Say's "Hey! I'm ready to do stuff!)
M63/F3 Pin 1. Black/Red wire to fuse block. 10A Fuse. From fuse block to 1uz plug 1 pin 1.
STA/NSW. (12V+ to allow the starter/ecu the okay to start doing stuff)
You can connect this directly to the NSW/STA wiring that comes from either the ECU plug (don't cut it, it needs to stay connected) or trace the wire around the left side to the starter signal wire.
Connect 1uz Startersignal wire or NSW wire from IL1 to E201/E17 Pin 2, Black/Yellow (manual chassis) or E203/E16 Pin 2, Black/Yellow (auto chassis)
Injector Power
M63/F3 Pin 1, Black/Red wire to fuse block to IL1 pin 13, Black/Red wire.
Tach
M63/F3 Pin 18, Yellow/Red wire to IL1 Pin 18, Black/Yellow wire.
Coolant Temp
M63/F3 Pin 20, Yellow wire to IL1 Pin 14, Yellow/Green wire.
Starter power
Located the starter power wire. It's a thick black wire around the left side of the engine. Connect it to your battery or a power block.
Alternator
(1JZ circle Alt plug works from wiringspecialties.com)
Run a wire from M63/F3 Pin1 to the Alternator plug for IGN power, to start the alternator up.
Connect your factory alternator charge cable.
E202/E19 Pin 1, Yellow wire is the alternator regulator cable.
E202/E19 Pin 5, White/Red wire is used for the Alternator charge light
Fuel Pump
The factory S-Chassis ECU grounds out M63/F3 Pin 27, Black/Pink wire. Use a relay to mimic this effect.
Use M63 Pin 32, Orange wire, to give the relay switched power, which will cause it to ground out. This also makes it safe incase of an accident and your engine shuts off.
Engine and Transmission Mounting
Alot of companies offer engine mounting and transmission adaption components.
http://collinsadapters.com/index.php
I personally use Collins' mounts, but that was all that was available at the time. He offers a complete kit, but I think its an ebay clutch. I pieced together my setup. So cannot comment on the quality.
http://www.xatracing.com/
XAT offers solid products and has the best looking clutch throwoutbearing sleeves.
Zilvia member turtle m3th offers products as well. His mounts allow you to use your factory engine mount so it's not completely solid. Probably the best choice for engine mounting.
Transmission
For KA/SR transmissions:
I used a circuit sports transmission mount, 5 speed trans crossmember and used one bolt on each side to mount the crossmember through the guide hole to the rear hole on the chassis. I feel this is fine, since the solid mounts are really whats holding the transmission up anyway.
Your stock clutch line will reach for this setup.
You have to grind the upper part of the transmission to make space for the starter to engage. you will also have to grind the bolts that hold the starter on the 1uz down a little to allow the transmission adapterplate to fit.
Clutch/Flywheel
For the flywheel purchase one from XAT or brett collins. Whatever. Or have a 3sgte one modified. (flywheel bolt holes extended)
For the clutch: Use a 3sgte Pressure Plate and the respective transmission (KA/SR) Clutch Disk.
7mge ARP Flywheel bolts
RB26 ARP Clutch Plate bolts
The 1uz comes with 2 flex plate spacers. Use the fat one beneath your modified flywheel.
Driveshaft
Driveshaft shop will make you one for about $350. Just get your measurements. They can walk you through it.
Powersteering
The KA24E powersteering line bolts right up.
OR
For powersteering:
http://www.summitracing.com/parts/EAR-130606ERL
Powersteering hose.
To s-chassis steering rack:
http://www.summitracing.com/parts/EAR-991954ERL
To 1UZ powersteering pump (LS400 style) (You'll need to add a couple washers to this, otherwise it'll bottom out in the pump):
http://www.summitracing.com/parts/EAR-9919DFJERL
This is it threaded in all the way without the washers.
90degree elbows that connect to the lines and the aforementioned adapters you need two of these:
http://www.summitracing.com/parts/EAR-139106ERL
Headers
Can't help too much. Either have the factory ones modified. Driverside needs to be brought in towards the block some and then wrap around the steering shaft. Passenger side needs the EGR hole blocked and lengthend a little. Or purchase the 2uz Ebay headers-
http://www.ebay.com/itm/M2-Performance- ... 7b&vxp=mtr
, Which still must be modified.
That's really all you need for the basics!