Update Time!
So this update will be alittle out of order, first off my S14:
I planned on having it done the the weekend before the week of MDU round 2.
I wrapped the other header and got those on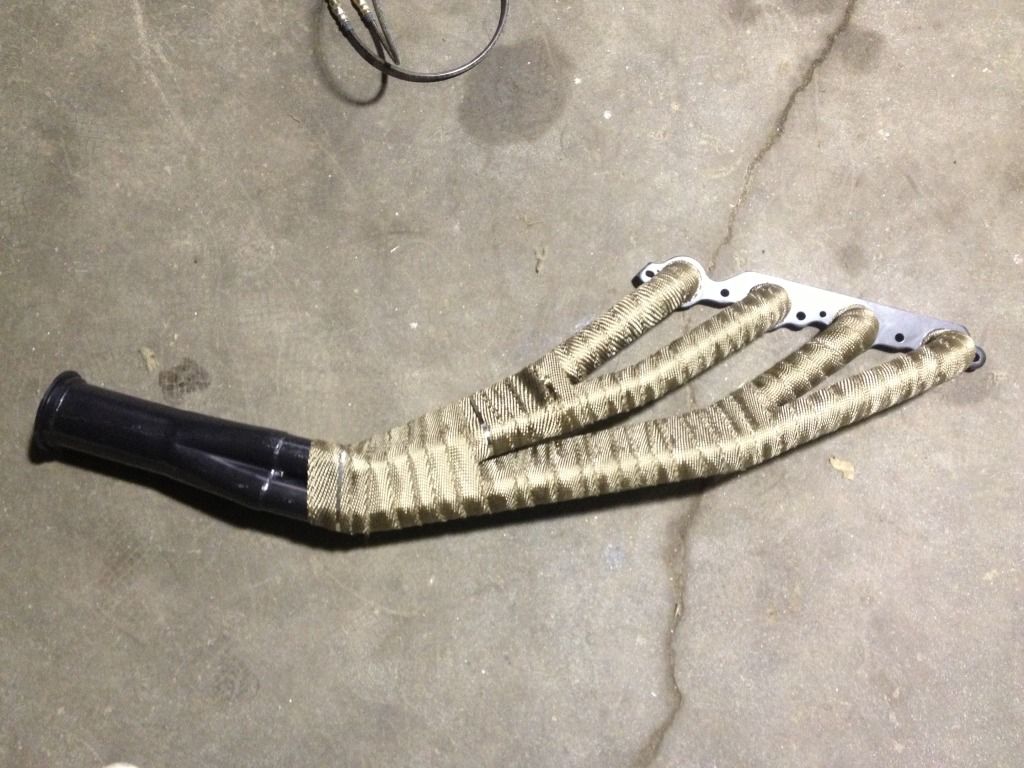 Installed my new Aeromotive Stealth Fuel Pump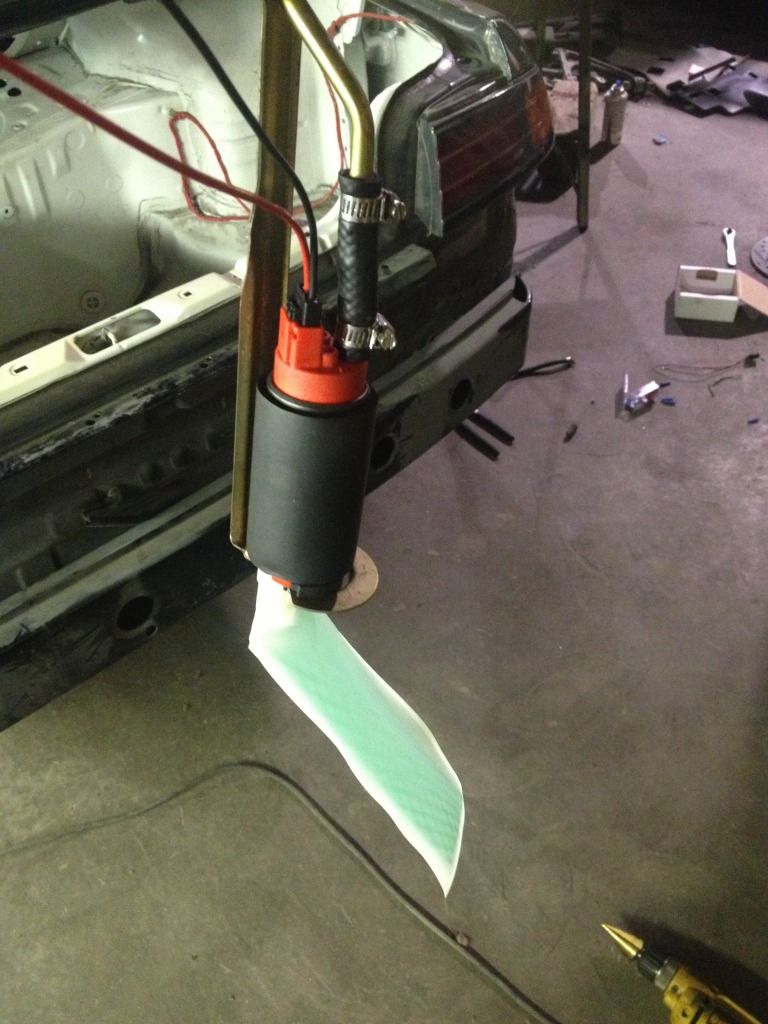 I ran my new -6 fuel line and -12 Dry Sump oil lines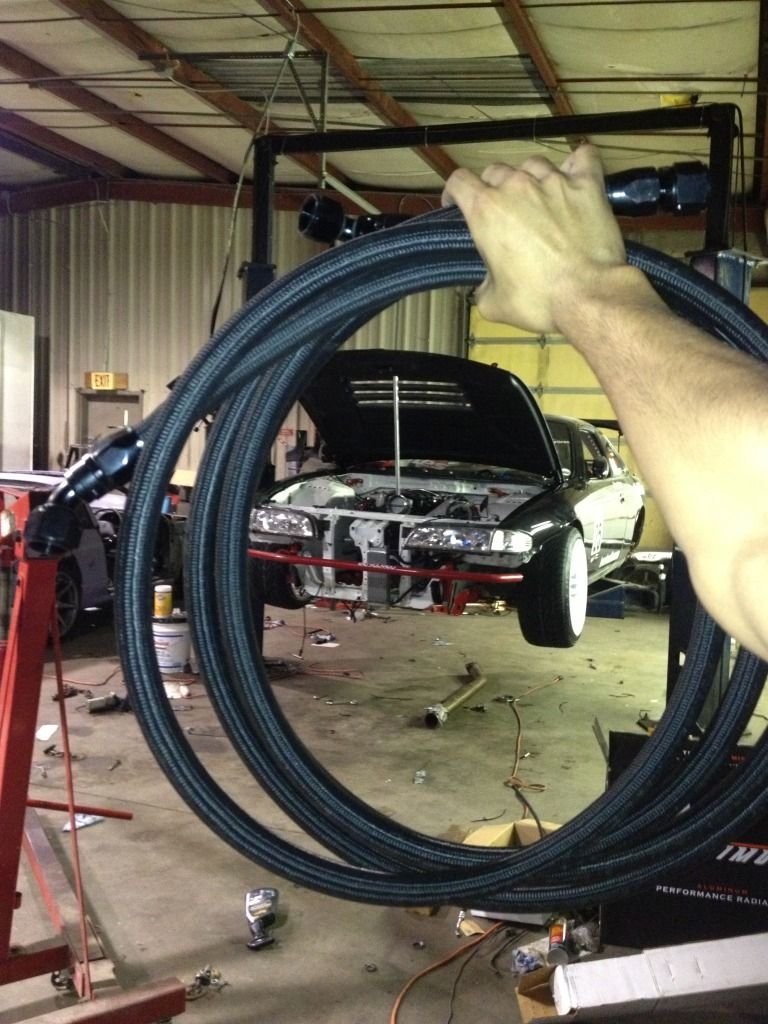 I got -12 fittings welded onto my dry sump tank and then I painted the tank
I did some decorating on the tank and made some brackets to install it, HEHEHE!
I figured out my intake setup, vibrant coupler/tubing and AEM filter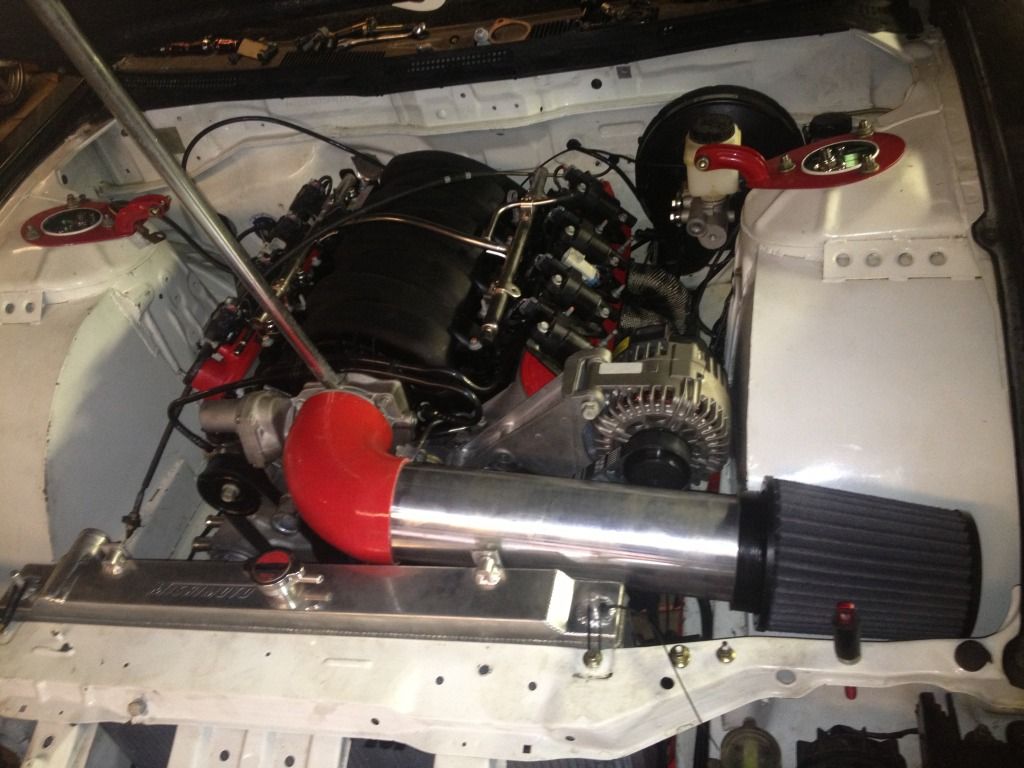 So then I find out that my LS7 didnt have its necessary MAF, So got one along with one of those bungs off ebay and had my welder buddy put it on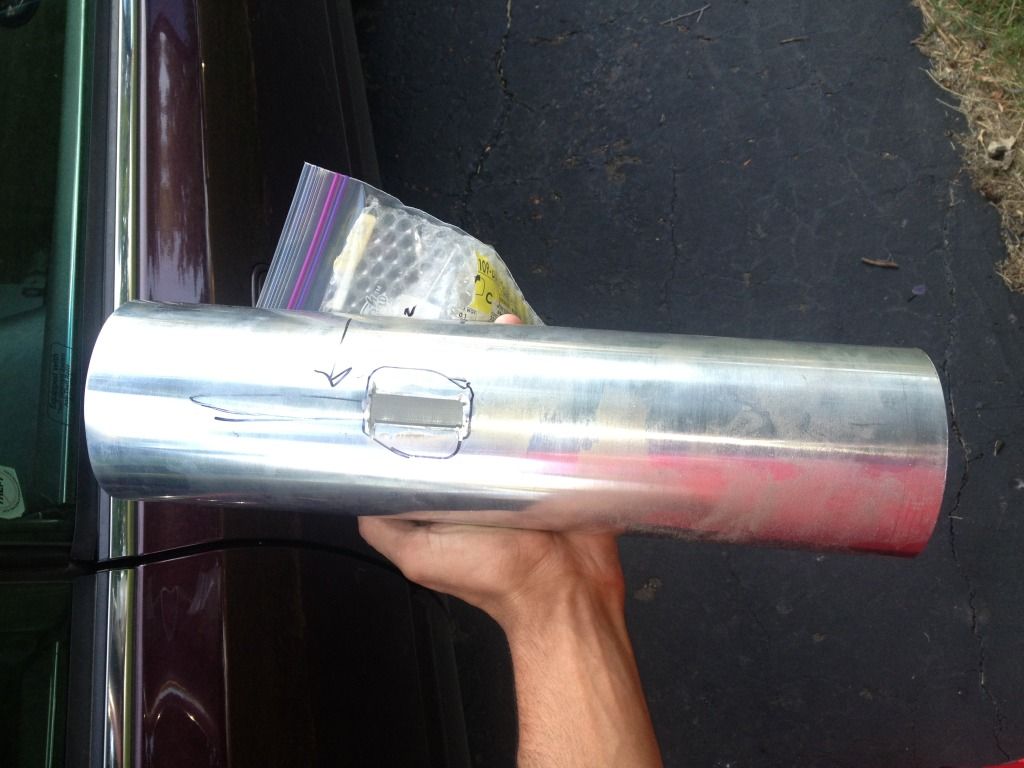 Lastly I put on new SS brake lines all around.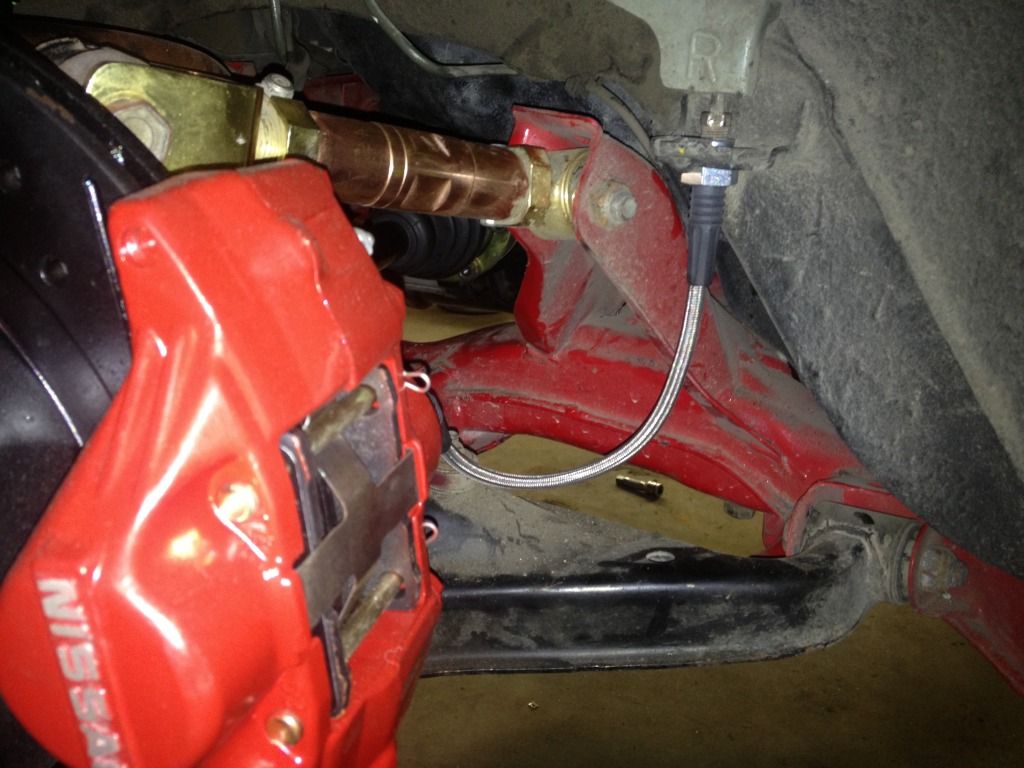 So even though I busted ass to get what I needed to get done on my 14 to make MDU round 2, I was forced to miss it because I was and still am waiting on my converted harness. So my cars sitting on the lift like this ---v until I get my harness. Then Its going to MCP in STL for a ypipe and 4" ypipe back exhaust and a tune.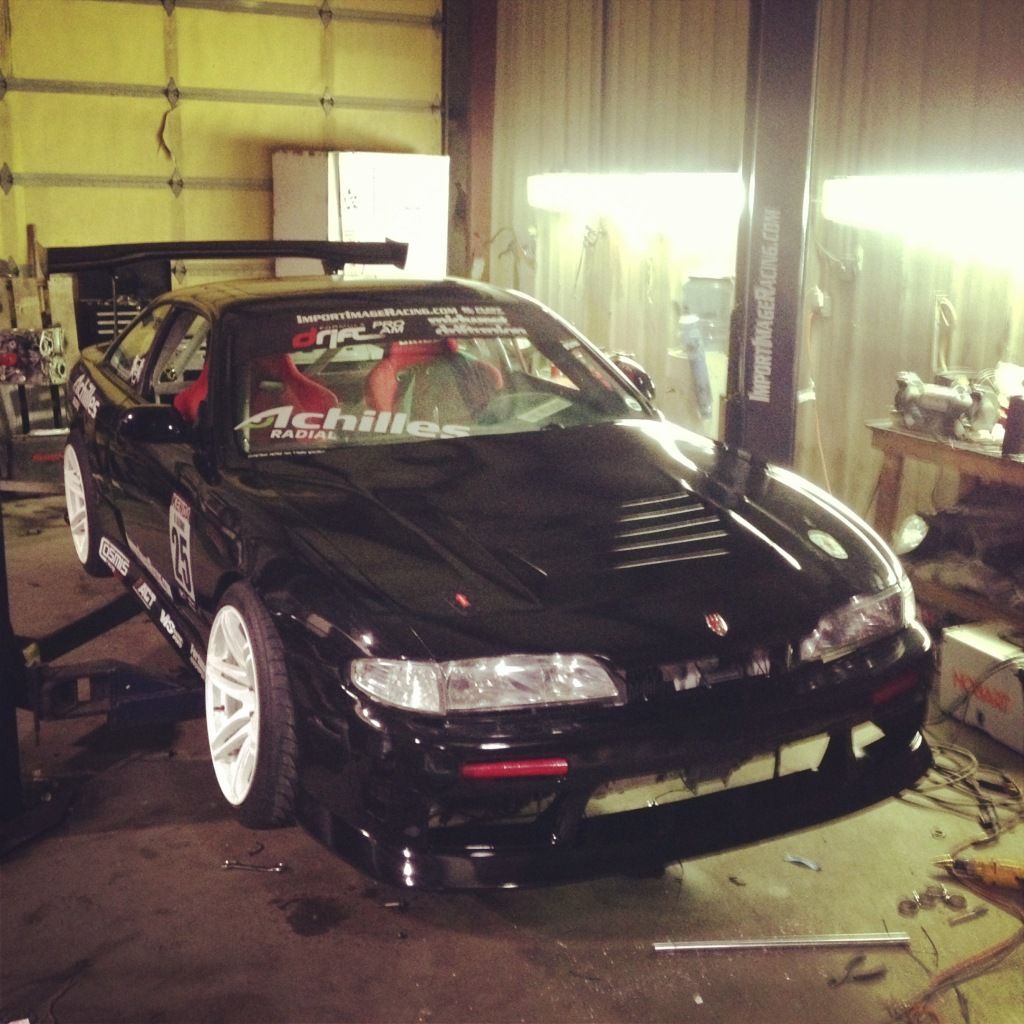 MDU Round 2, St. Louis:
So Im not one to miss a localish event and even more so a proam event, even if I dont have a car.
I got to STL friday night to hang with the bros at Midnight Madness, and a good buddy of mine, James Blair, offered to lend me his car for MDU on saturday.
His car was built well and Ive driven his car once before at a Kansas event so who am I to decline such a generous offer.
We ended sharing his car at the event, Ive driven the Gateway roadcourse once before so I didnt need much practice just enough to get used to the car.
I got about 9-10 runs in before qualifying and by the 9th or 10th lap I had finally gotten the run down.
His car was originally a road race car so the boost didnt hit till mid 4k and Ive been used to 3k max on my S14 last season so it was definietly a tricky car to drive and took me alittle bit to get used to and adjust.
But I was able to put down a solid run and ended up qualifying 10th.
Lined up for the top 16 battle: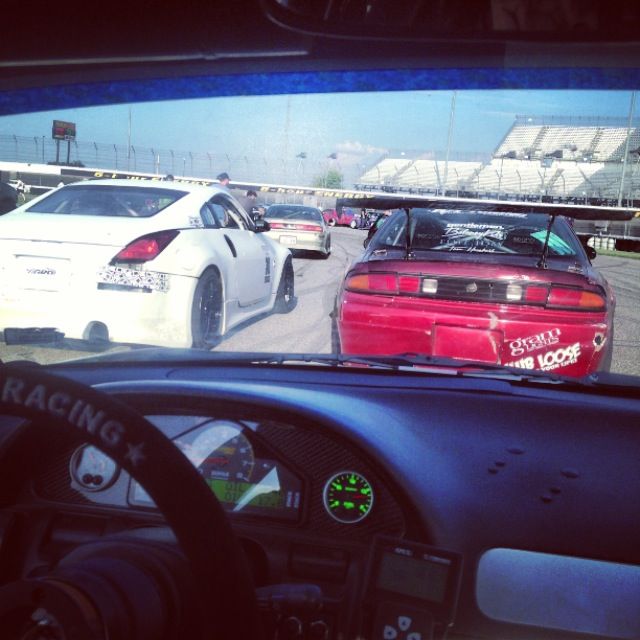 I was up against Josh Collins, I dont have any pictures of our battle but heres a pic of his car during practice.
Anyways, I ended taking the win, I really started to get the line down and put down some sweet follow and lead runs, I think he ended up blowing out his tranny on my lead run, not sure what happened there but it was a fun battle!
Top 8 battle was with one of my good friends Alex Ledbetter, his car is pushing about 500hp and the 13 I was in was maybe 280ish.
No excuses, The battle was RAD! I definitely held my own and was able to keep up fairly well in my follow run and gain some distance after initiation on my lead run.
But he had more angle and WAY more smoke, and I wasnt as close to him as he was on me and he got the win.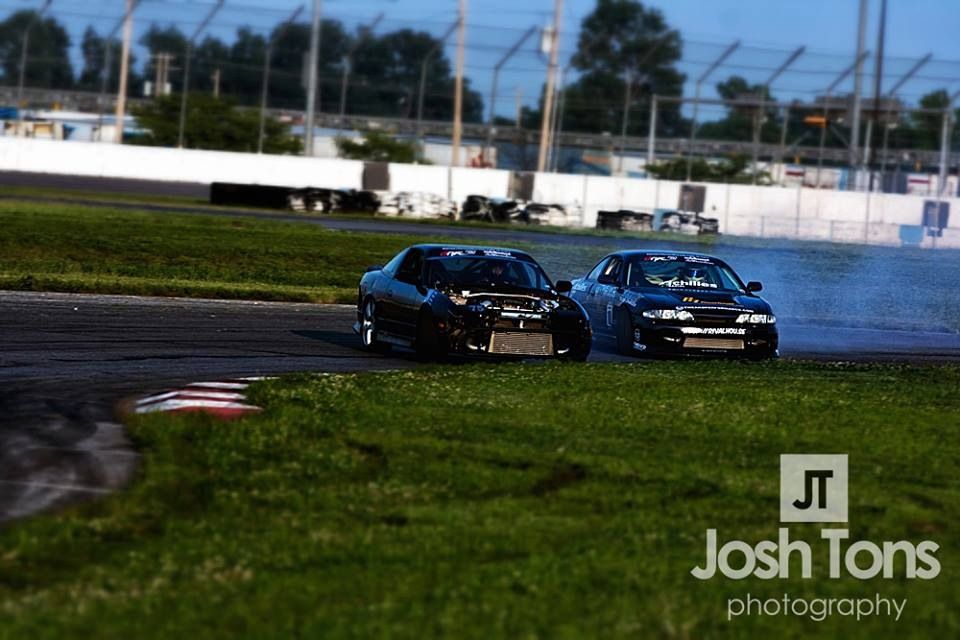 Heres a link to my lead, I literally went all out, I had a smile on my face the rest of the day. I had a great time like always.
[url="https://www.facebook.com/photo.php?v=3200675873615&l=8266387470322755788"]https://www.facebook.com/photo.php?v=3200675873615&l=8266387470322755788[/url]
I stayed in STL for a couple days and hung out, mostly because I had nothing to do on my cars because I was waiting on parts for both....
So back on the S13 last Tuesday: (once again, its alittle out of order)
I got another set of wheels from Cosmis Racing, Probably one of my favorite wheels ever, Im super glad theyre helping me out this year and hopefully years to come: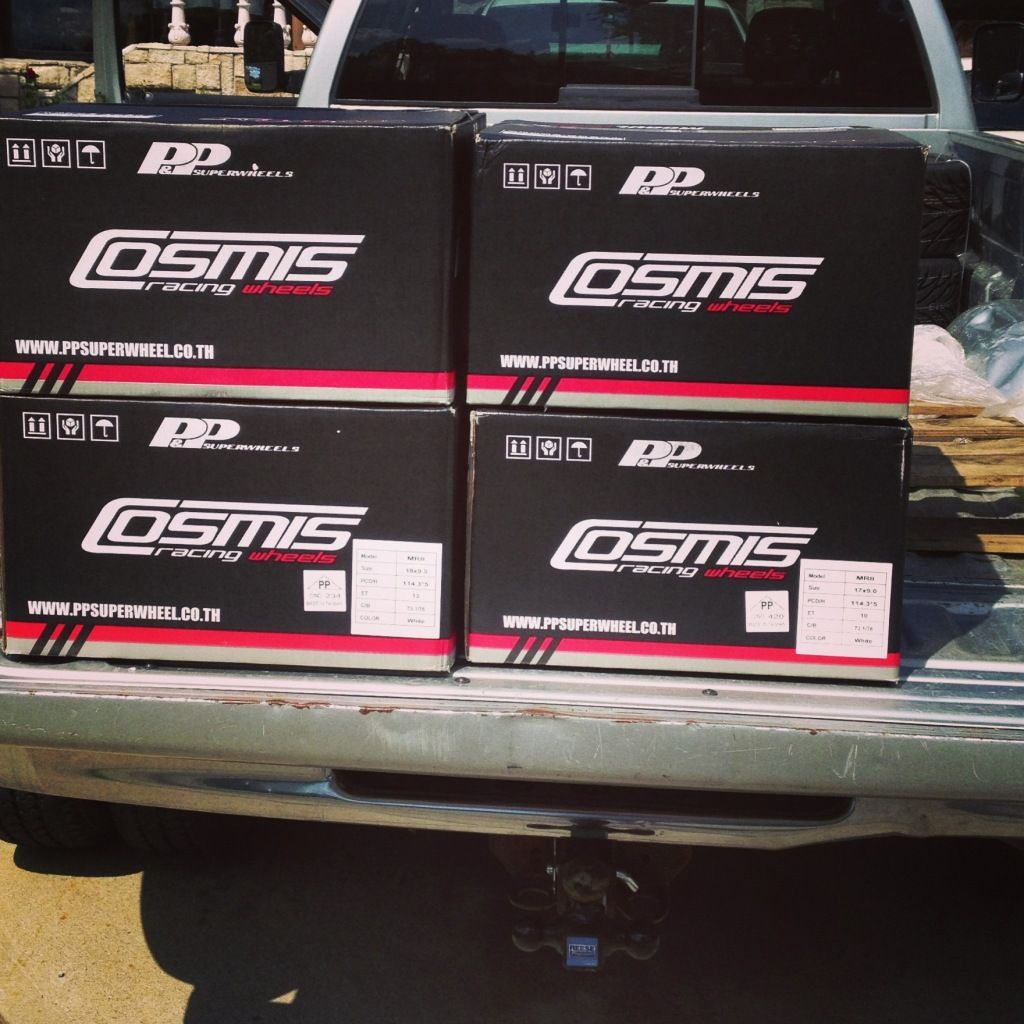 I installed my 5lug conversion and some adj. S14 rucas and toe arms and made my own lock out kit: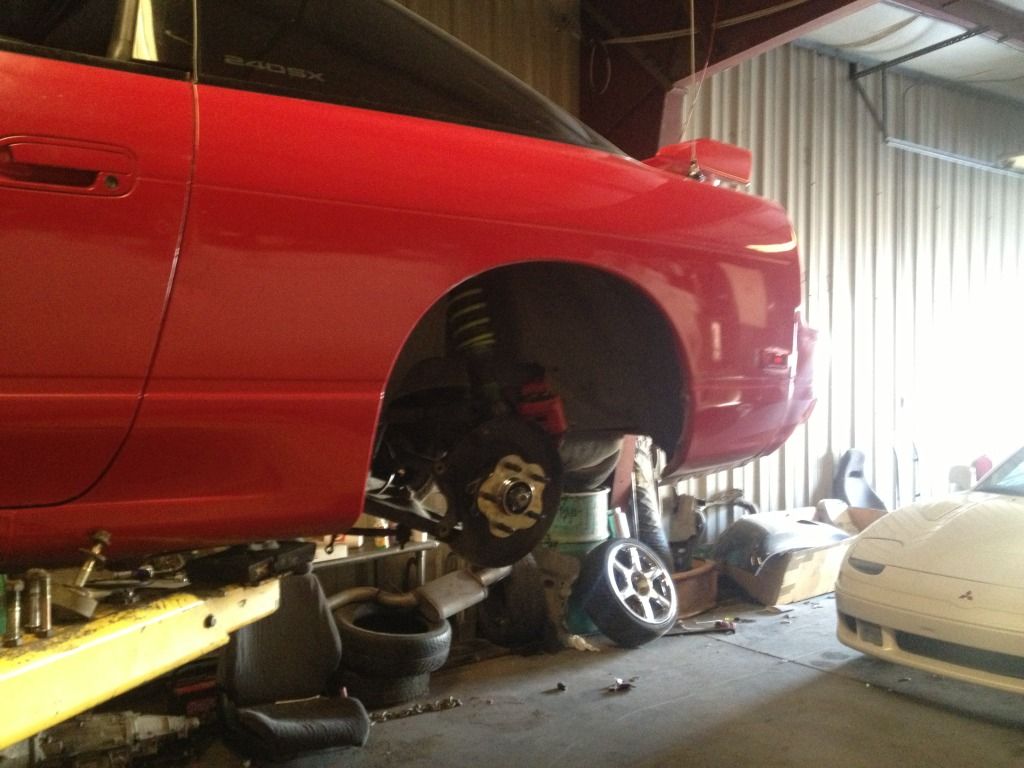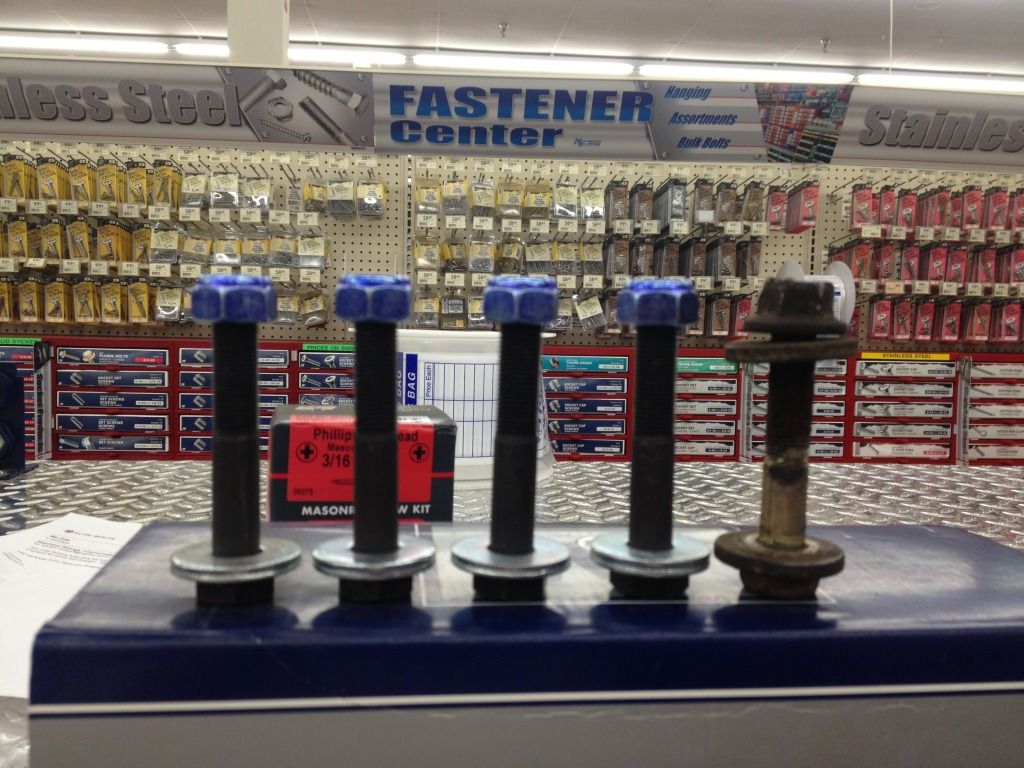 I threw one of my wheels on to roll the fenders.
I literally maxed out my rucas and rolled to fit. The less amount of neg camber the better!
AND BOOM!
Then I installed one of these things: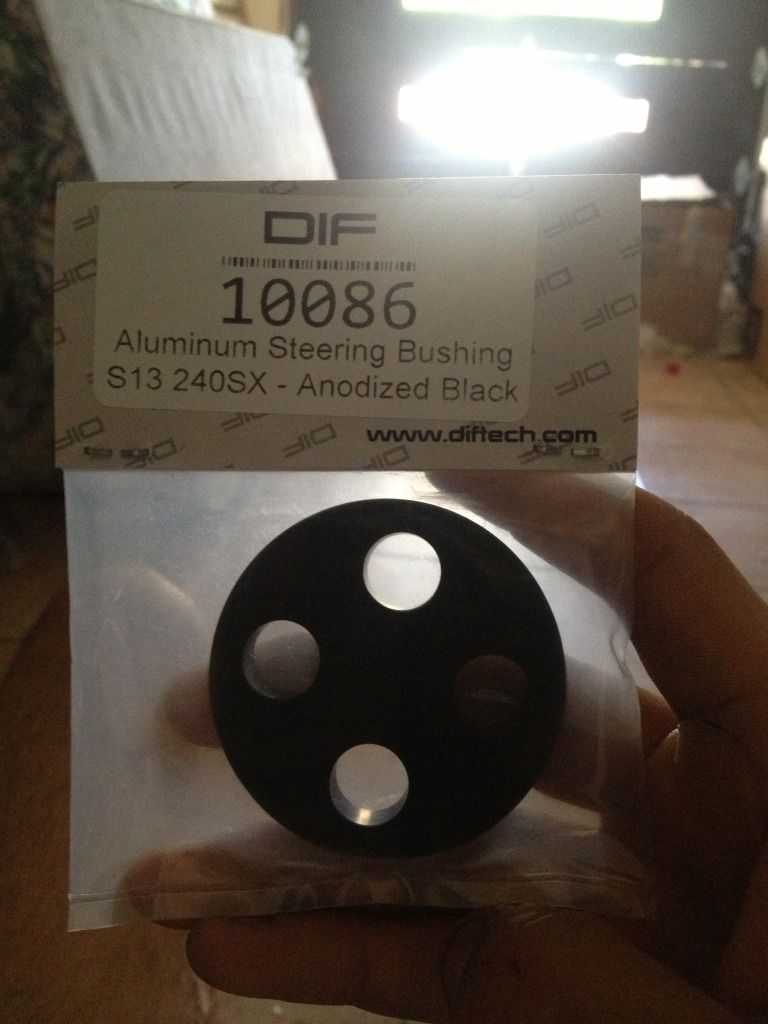 I prepped my OEM Type X aero for paint
And BOOM!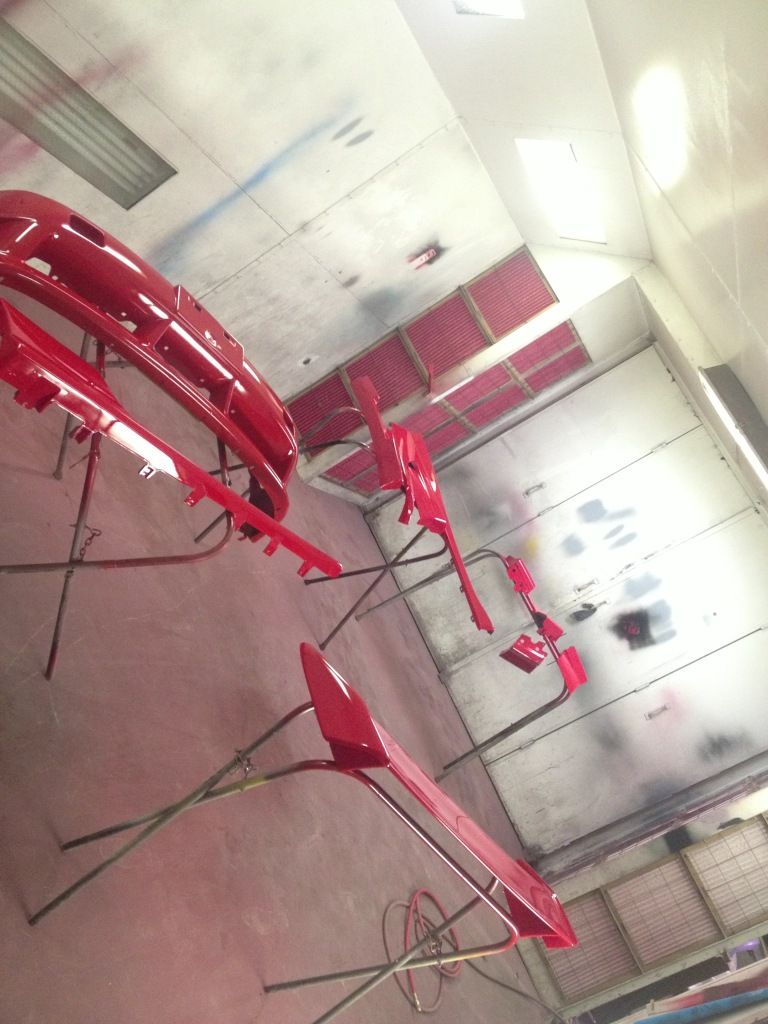 I threw on my spare Z32 front brakes
I installed all the aero and test fitted my front wheels
I painted my 1jz's valve covers my signature sunrise wrinkle red.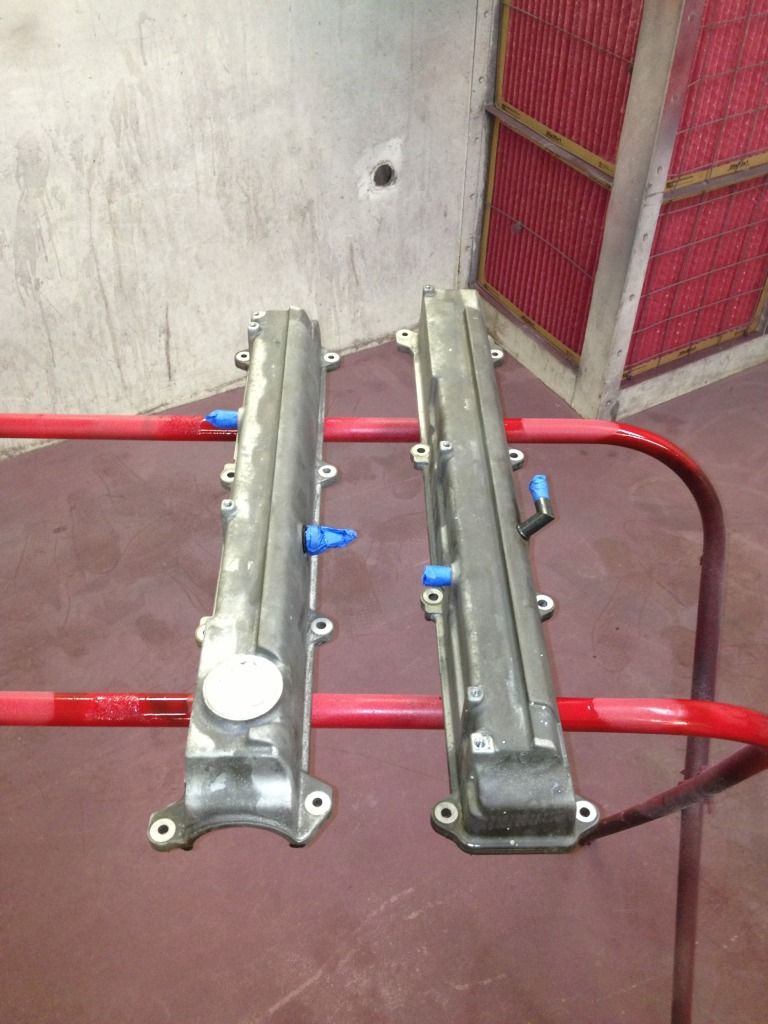 And of course painted my inlet pipe and intake maniold wrinkle black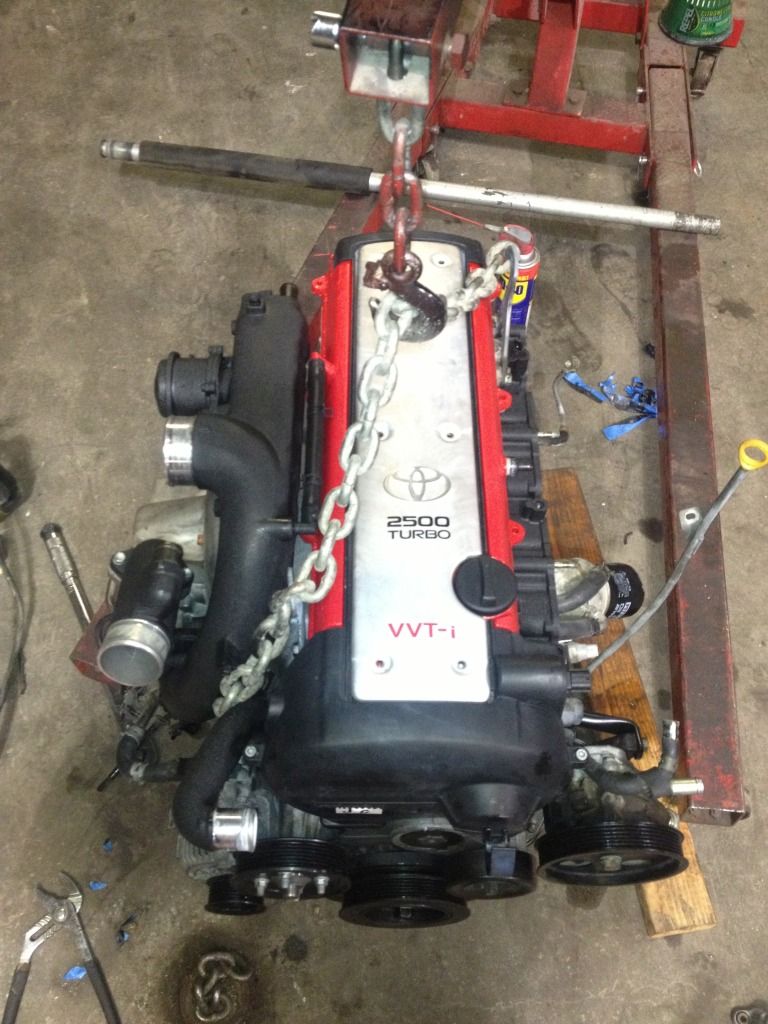 ACT ON EVERYTHING!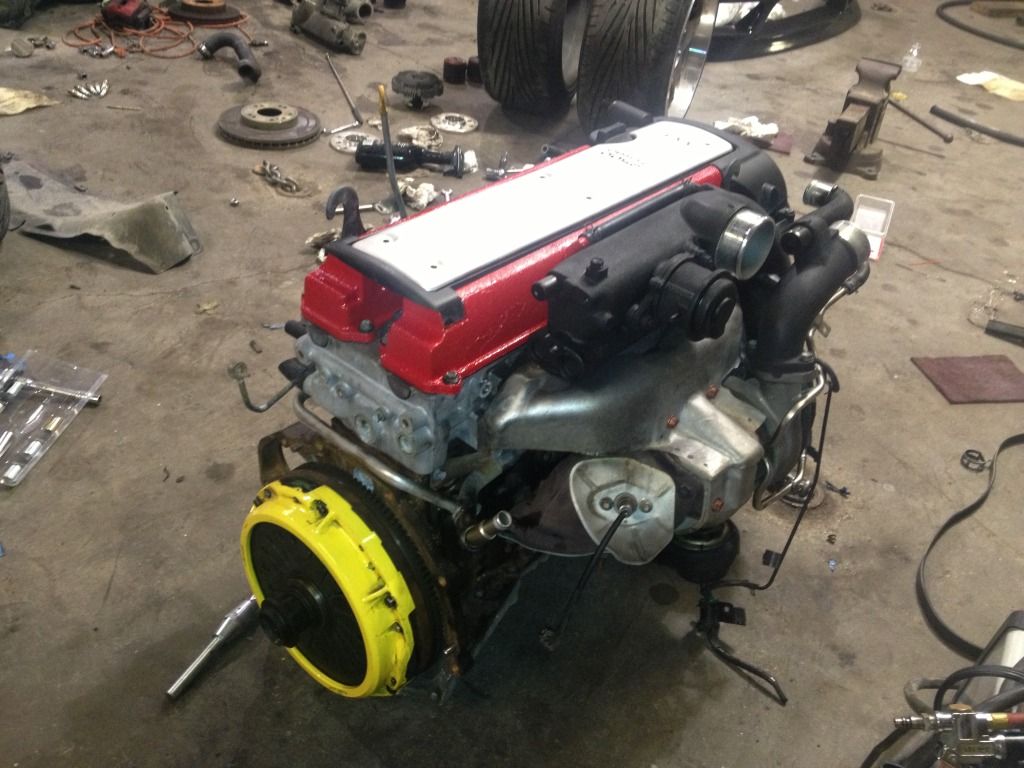 that night BOOM, in: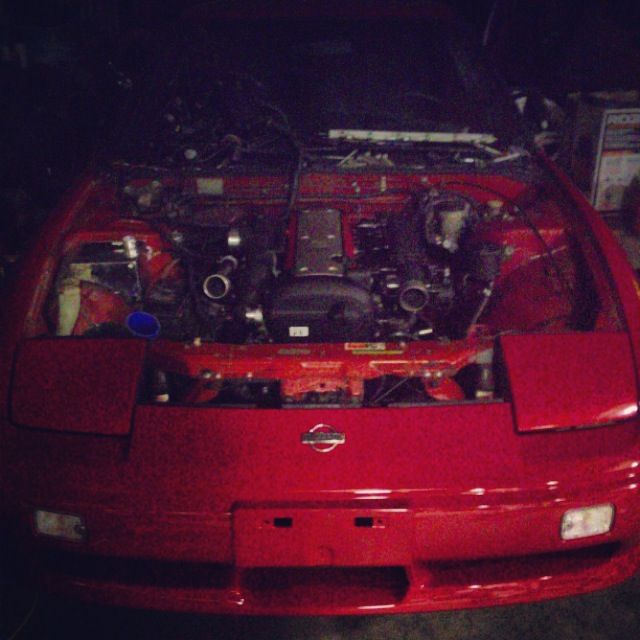 but something I overlooked to mention, the reason I pulled the 1j in the first place was because it developed a knock the first day I got the car...so the previous owner did help me buy a new motor from tiger japanese and thats whats in the car now.
The oil pan on both motors were super dented, so the part I was waiting on and made this car miss MDU was the new oil pan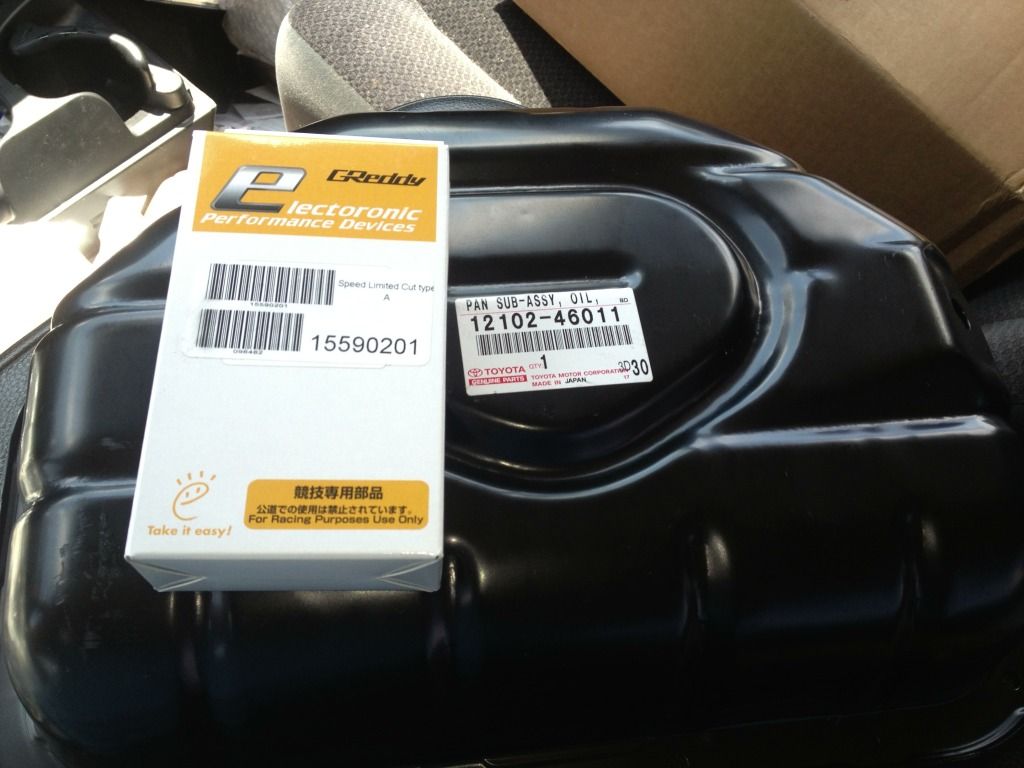 I also got a skid plate to protect it since it does sit below the crossmember.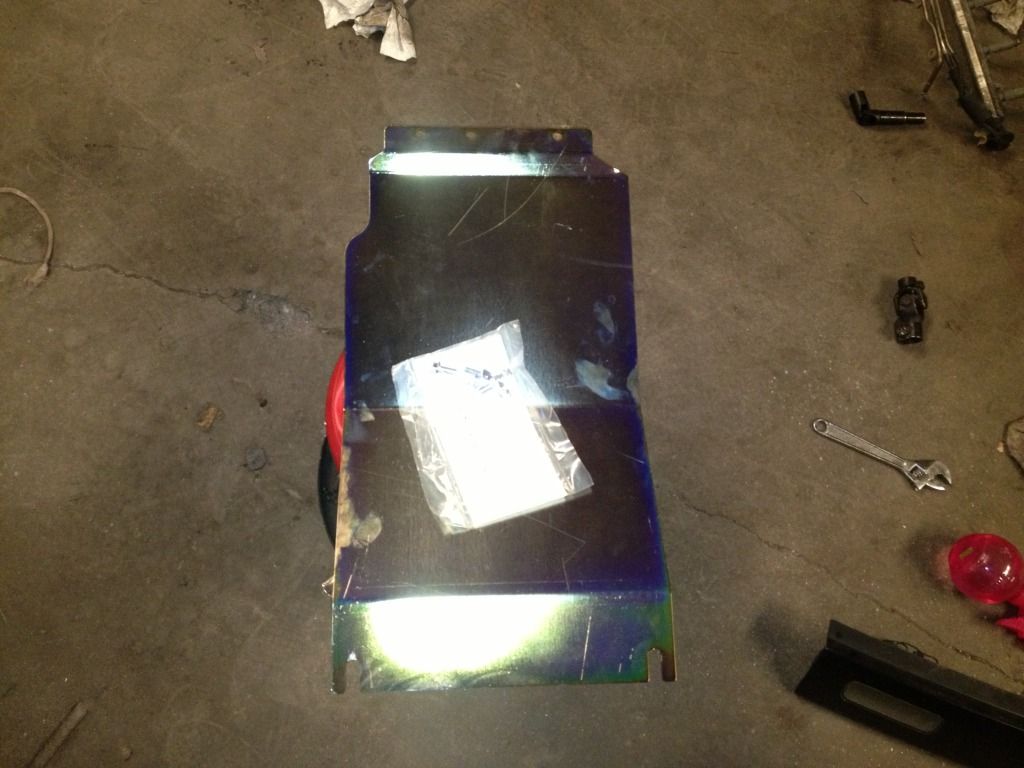 Anyways I got the car all ready to go: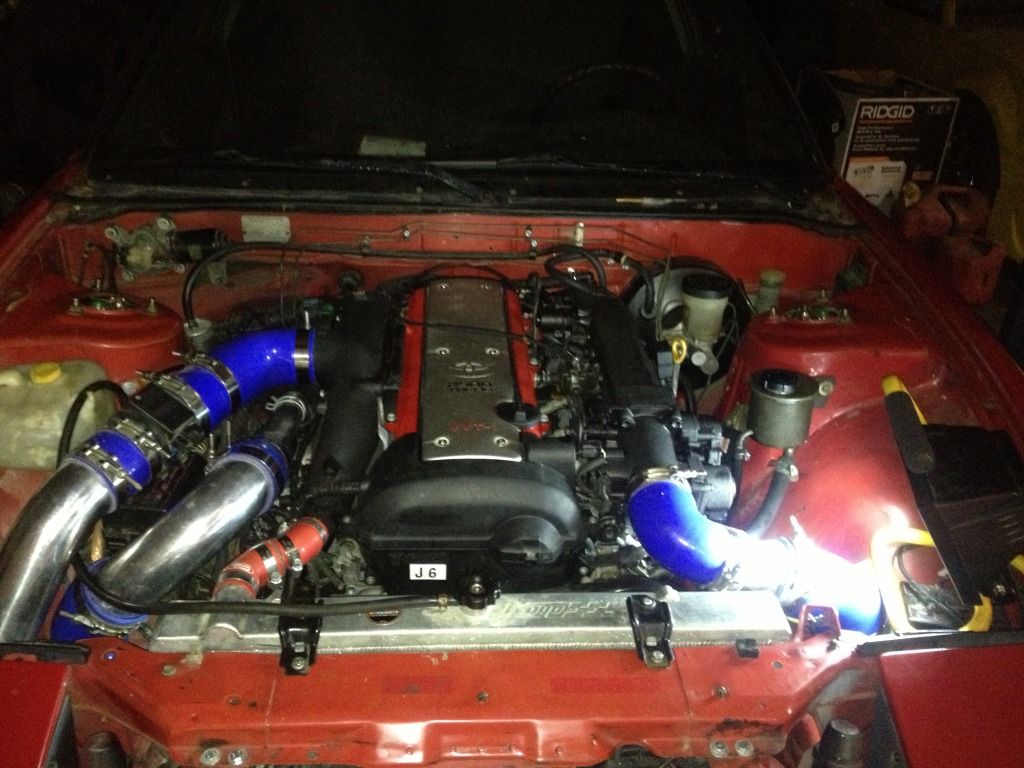 Filled with fluids, bleed them, etc..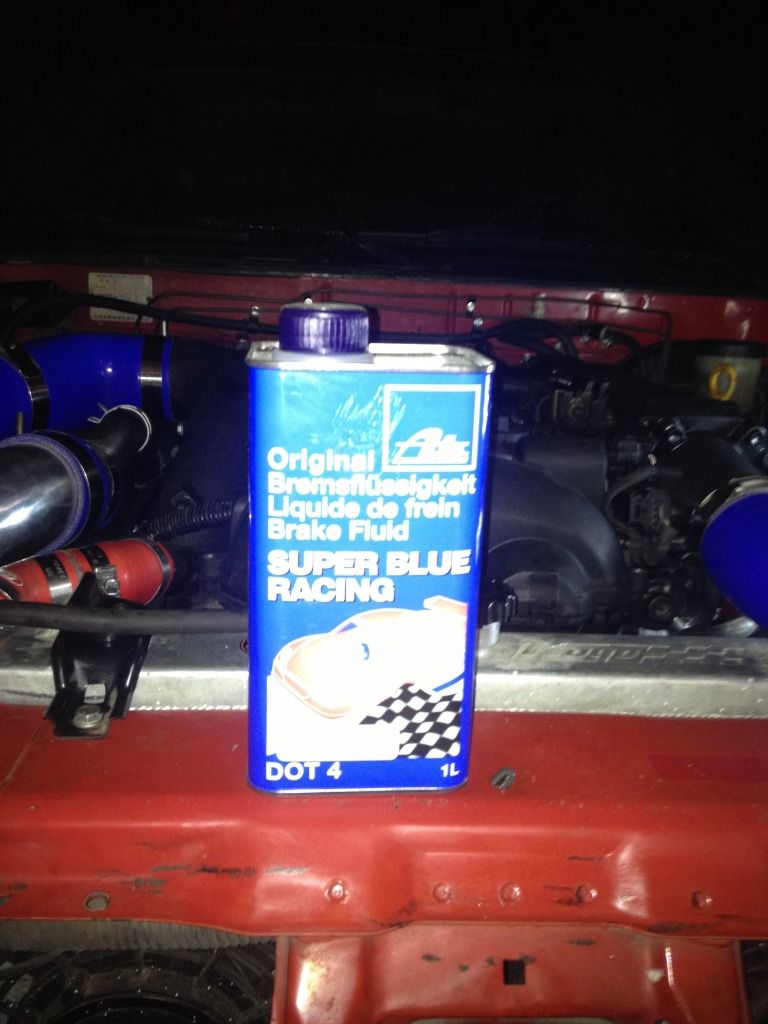 Then primed it, and turned it on and.......KNOCK KNOCK KNOCK KNOCK....FUUUUUUUUU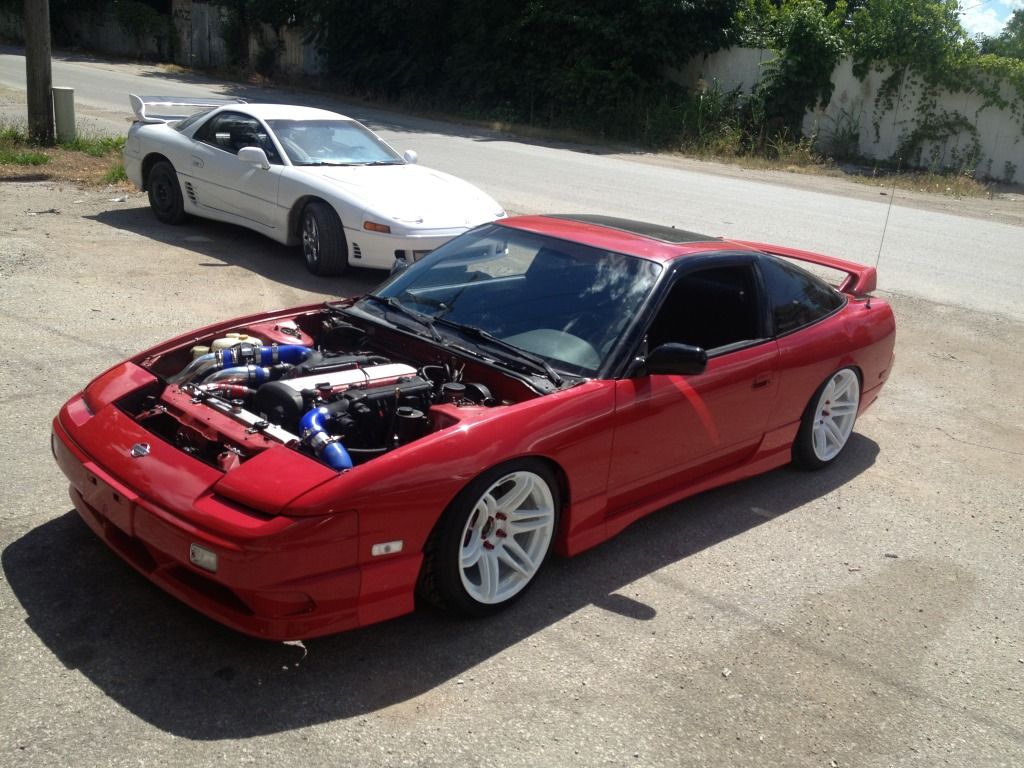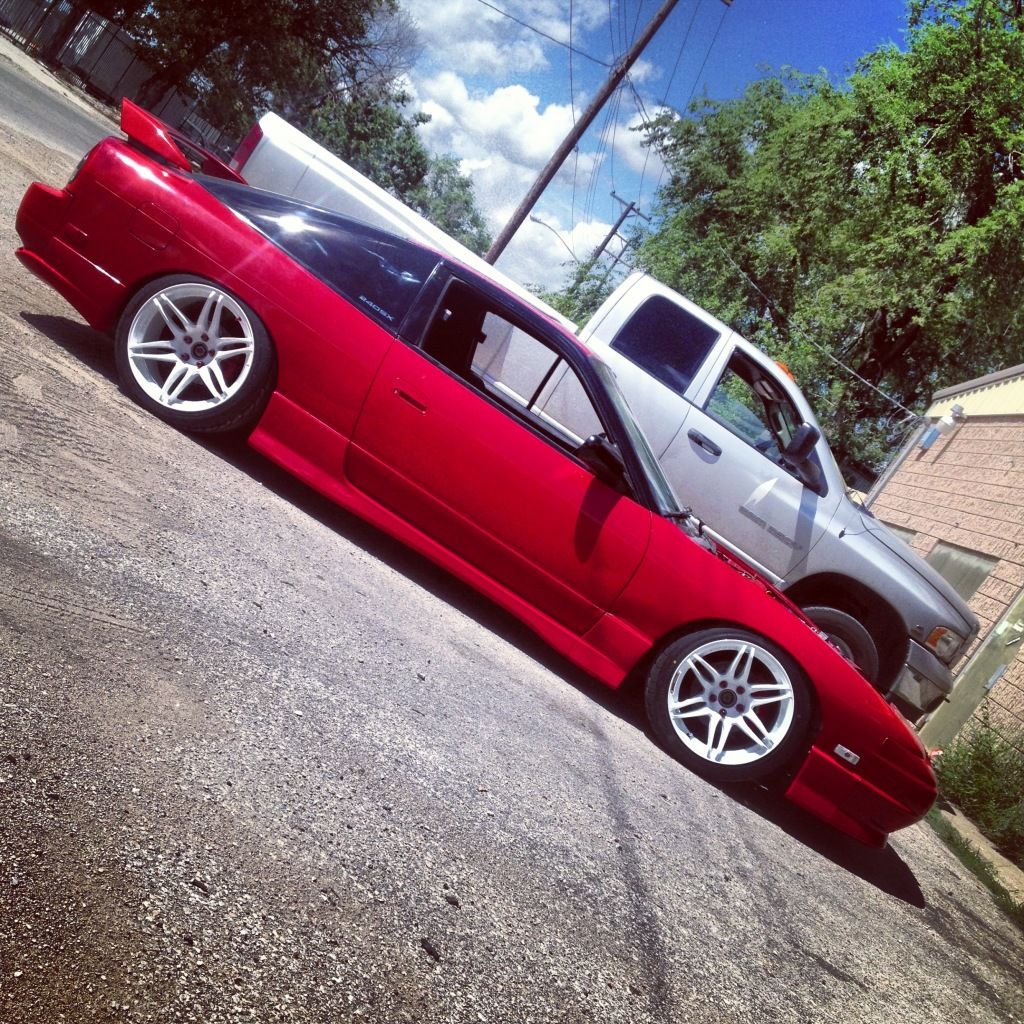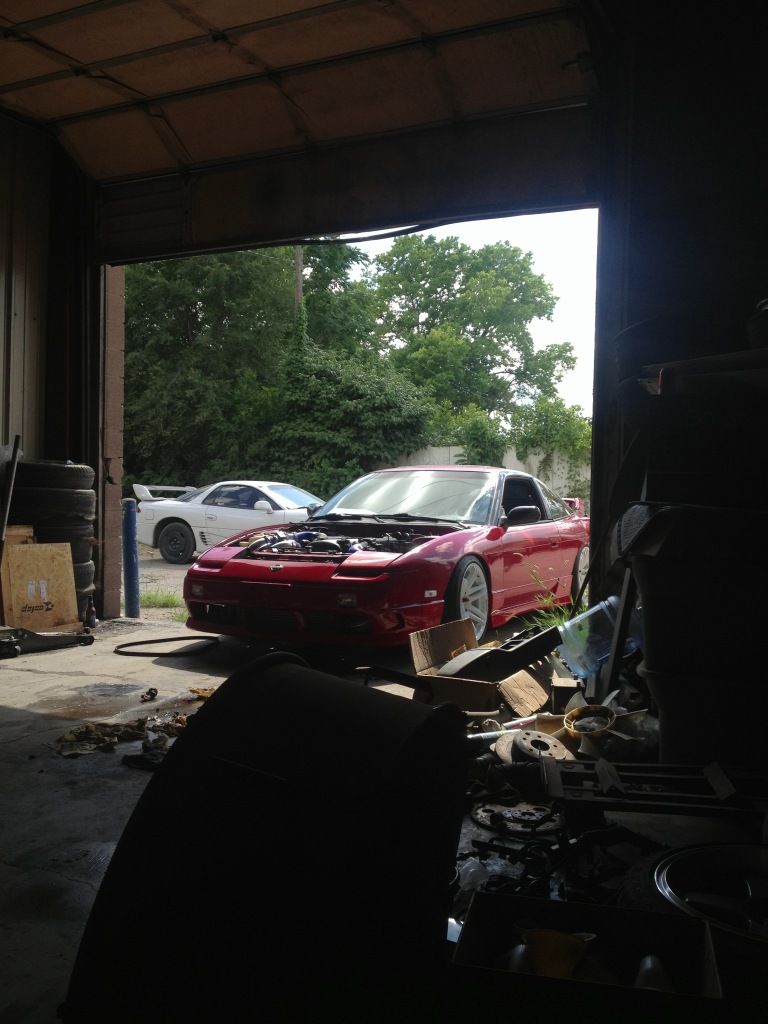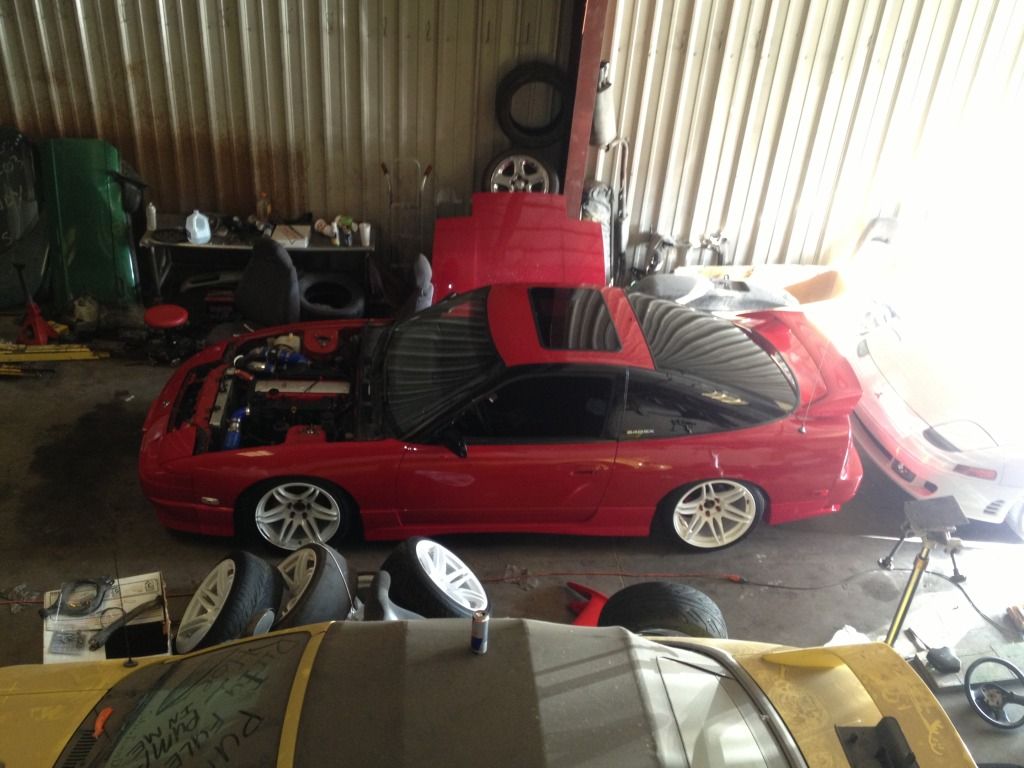 Anyways, Im not gonna go into detail about the engine that was sent to me already trashed, Im currently working out a claim and hopefully gonna figure something out to get another motor from Tiger, or some money and rebuild it, either it run one day soon.
I was devastated that I put in so much work into this car and then have a motor I trusted to work great, not work great...But shit happens, Im used to it by now and im over being sad and worried. Focus is now on the S14, which since I went through EVERYTHING on that new swap and the car, it should run forever and IM STOKED.
In other news I got a shipment of 123s from achilles, I love these tires.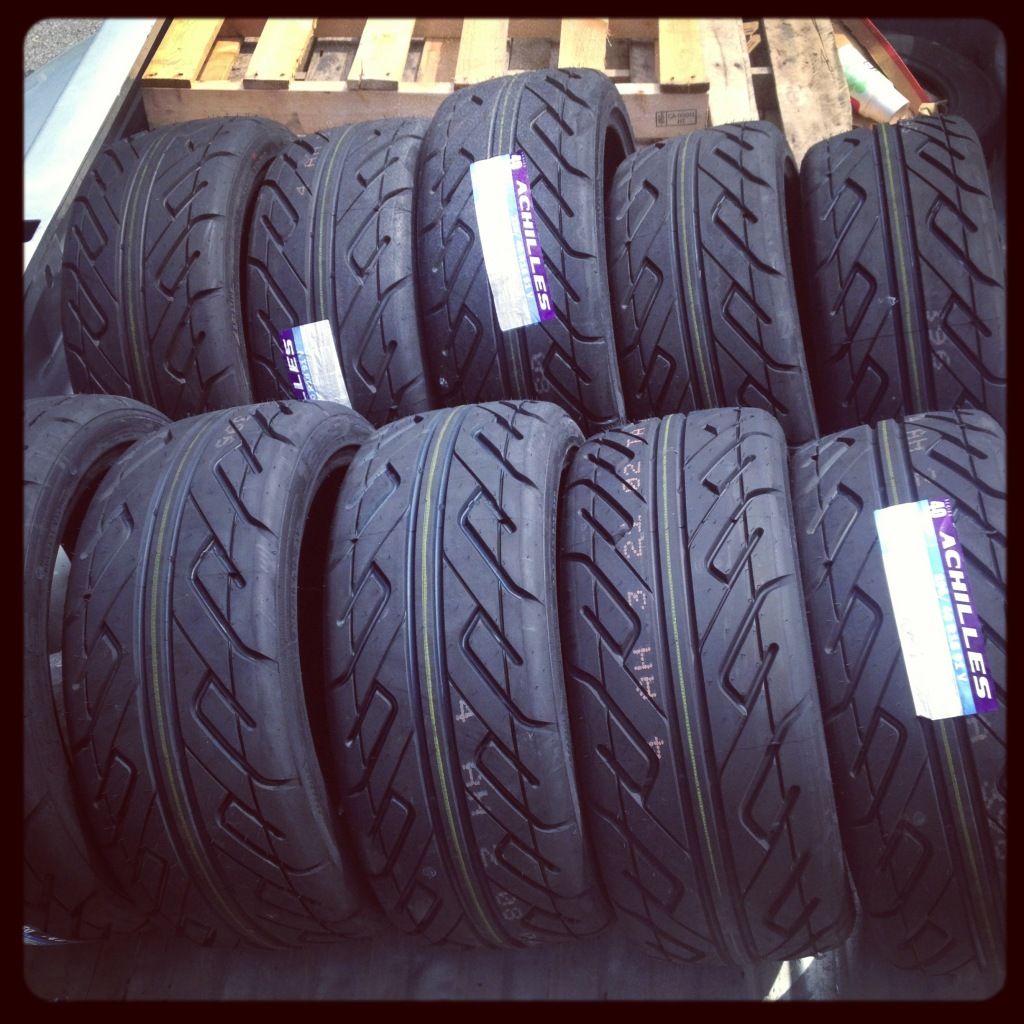 Stay Tuned!